LAS VEGAS COMMUNITIES >> RHODES RANCH LAS VEGAS >> Auburn Hills at Rhodes Ranch
Auburn Hills at Rhodes Ranch
Auburn Hills is a subdivision within the master planned community of Rhodes Ranch in the southwest area of Las Vegas, NV.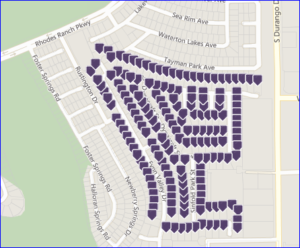 Built by Astoria Homes, there are 174 single family homes in Auburn Hills at Rhodes Ranch with floor plans ranging from 2,432 SF – 3,699 SF built on lots ranging from 6,098 SF – 13,504 SF. The homes have 3 – 5 bedrooms and 2.5 – 3.5 bathrooms. At this time 70 of the homes in Auburn Hills have private swimming pools.
Auburn Hills at Rhodes Ranch streets include Anten Gulley Court, Auster Park Avenue, Balbur Run Street, Danmuir Drop Court, Dynacraft Street, Fynn Valley Drive, Grand Central Parkway, Parisian Springs Court, Powerbilt Avenue, Pure Rain Court, Sinfold Park Street, Stonewolf Court, and Whitly Bay Avenue.
Auburn Hills at Rhodes Ranch
[icon icon="fa-home" size="35″ color="#2c2f74″]
RHODES RANCH LAS VEGAS REAL ESTATE
Real Estate Resources
SEARCH FOR RHODES RANCH IN LAS VEGAS HOMES
Below are a few latest homes for sale for in Rhodes Ranch in Las Vegas, NV. Click VIEW ALL to open in a new window for view all the listings.
Contact Team Carver at (702) 436-3615 or at Clients@TeamCarver.com to arrange the showings of the Rhodes Ranch homes that are of interest to you with one of our experienced Rhodes Ranch real estate agents. You can also select SCHEDULE SHOWING, which is available on each individual Rhodes Ranch real estate listing.
You can also use our Las Vegas MLS search and save listings of interest to your profile.
Auburn Hills at Rhodes Ranch