LAS VEGAS ZIP CODES >> SUMMERLIN ZIP CODES >> Zip Code 89138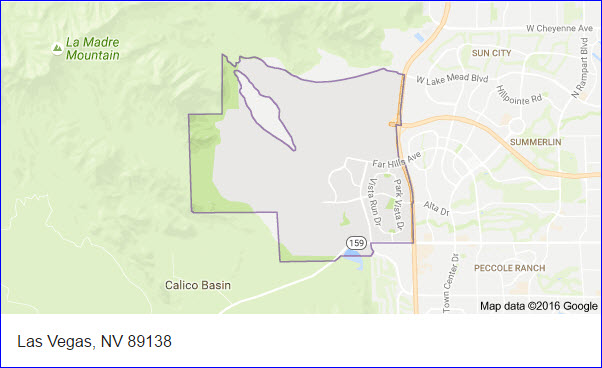 Zip Code 89138
The Summerlin zip code of 89138 in Las Vegas, NV is within the area of the I-215 Beltway to the East and W. Charleston Boulevard to the South.
A lot of the area within this zip code is not yet developed and will be the home of future Summerlin villages and neighborhoods.
NEIGHBORHOODS IN ZIP CODE 89138
Click on the links below to find out more information about the villages and neighborhoods within zip code 89138.
Bella Vista at The Vistas
Entancia at The Vistas
Santaluz at The Paseos
89138 REAL ESTATE
Use the links below to find your new home for sale or rental home in zip code 89138.
LAS VEGAS ZIP CODE RESOURCES
ZIP CODE 89138 STATS
Population: Approximately 12,000
# Homes: Approximately 5,000
Median Household Income: Approximately $104,000
Median Home Value: Approximately $300,000
Land Area: 4.21 square miles
Water Area: 0.00 square miles
ZIP CODE 89138 REFERENCES
Zip Code 89138