SUMMERLIN LAS VEGAS >> THE VISTAS AT SUMMERLIN >> Kingwood at The Vistas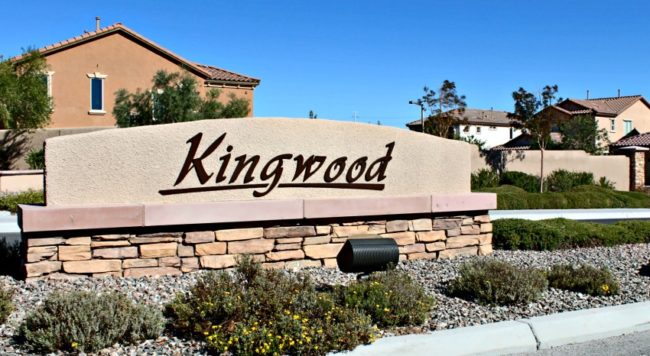 Kingwood at The Vistas
Kingwood at The Vistas is a neighborhood within the master-planned community of Summerlin in Las Vegas, NV in zip code 8138.
Development started in 2006 by R/S Homes, a local builder, and finished by KB Homes, Ryland, and William Lyon Homes with the following floor plans:
Kingwood Knoll by Ryland Homes offers seven different floor plans that range from 1,515 SF – 2,224 SF.
Kingwood Crossing by William Lyon Homes offers four different floor plans that range from 1,948 SF  – 2,737 SF.
Crown Series at Kingwood by R/S Development offers four different floor plans that range from 2,426 SF to 3,158 SF.
Kingwood at The Vistas consists of 322 one- and two -story single family homes with floor plans ranging from 1,511 SF – 3,258 SF. These homes were built on lots ranging in size from  3,920 SF – 11,326 SF.  The homes have 2 – 5 bedrooms and 2 – 4 bathrooms. At this time there are 54 Kingwood at The Vistas homes with private swimming pools.
Streets within Kingwood at The Vistas are Ambrosia Drive, Applevale Court, Baronet Drive, Bayhead Court, Chestnut Chase Street, Hedgemont Avenue, Hickory Park Street, Jasper Grove Avenue, Maple Bend Court, Oak Fair Street, Robin Leaf Court, Robin Park Avenue, Stanwick Avenue, Sweetstem Court, and Vine Creek Place.
[icon icon="fa-home" size="35″ color="#2c2f74″] 
SUMMERLIN REAL ESTATE
Summerlin Homes for Sale Search by Zip Code
Community Guides
Other Real Estate Resources
[icon icon="fa-search" size="35″ color="#2c2f74″] 
SEARCH FOR KINGWOOD AT THE VISTAS HOMES
Below are the latest homes for sale for in Kingwood at The Vistas in Summerlin – Las Vegas, NV. Click VIEW ALL to open in a new window for view all the listings.
Contact Team Carver at (702) 436-3615 or at Clients@TeamCarver.com to arrange the showings of the Kingwood at The Vistas homes that are of interest to you with one of our experienced Summerlin real estate agents. You can also select SCHEDULE SHOWING, which is available on each individual Kingwood at The Vistas real estate listing.
You can also use our Las Vegas MLS search and save listings of interest to your profile.
Kingwood at The Vistas
Kingwood at The Vistas