HENDERSON REAL ESTATE >> HENDERSON COMMUNITIES >> Plum Hollow at Anthem Country Club
Plum Hollow at Anthem Country Club
Plum Hollow is a subdivision within the neighborhood of Anthem Country Club in Henderson, NV.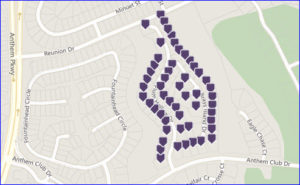 This subdivision consists of 52 one- and two-story single family homes with floor plans ranging from 2,725 SF – 5,092 SF with 3 – 7 bedrooms and 2 – 4.5 bathrooms. These homes were built on lots ranging in size of 10,019 SF – 15,682 SF. At this time there are 32 homes with private swimming pools.
There are homes in Anthem Country Club that have basements.
Plum Hollow streets include Plum Hollow Drive, Brays Island, and Darcy Court.
---
Plum Hollow at Anthem Country Club Homes for Sale
Below are some of the latest homes for sale for Anthem in Henderson, NV. If you do not see listings, then there are none available at this time.
Contact Team Carver at (702) 436-3615 or at Clients@TeamCarver.com to arrange the showings of the Anthem homes that are of interest to you with one of our experienced Anthem real estate agents. You can also select SCHEDULE SHOWING, which is available on each individual Anthem real estate listing.
You can also use our Las Vegas MLS search and save listings of interest to your profile.
---
[icon icon="fa-home" size="35″ color="#2c2f74″] 
ANTHEM REAL ESTATE INFORMATION
Henderson Real Estate Resources
[icon icon="fa-usd" size="35″ color="#2c2f74″]
PLUM HOLLOW AT ANTHEM COUNTRY CLUB HOMEOWNERS FEES
Below is information for additional fees that may be associated with the purchase of your Plum Hollow home. Note that this information is not guaranteed and contact the HOA for clarification.
Click here to read more about these fees if you are not familiar with them at LIDs, SIDs & HOA Info.
Homeowners Association(s): Anthem Country Club
Fee(s): $166
Fee Type: Month
SID: None
[icon icon="fa-user-secret" size="35″ color="#2c2f74″]
WHAT'S HAPPENING IN THE AREA
Visit the site Crime Mapping or use their mobile app to see what's happening in this neighborhood.
[icon icon="fa-lightbulb-o" size="35″ color="#2c2f74″]
LAS VEGAS VALLEY UTILITIES
NV Energy

Customer Service: (702) 402-5555
Outage Reporting: (702) 402-2900
Southwest Gas

Main Line: (877) 860-6020
Las Vegas Valley Water District
General: (702) 870-4194
Customer Service: (800) 252-2011
Henderson Water: (702) 267-5900
N. Las Vegas Water: (702) 633-1275
Call Before You Dig: (800) 227-2600
Republic Services

General: (702) 735-5151
Recycling: (702) 735-5151
RepublicServicesVegas.com
HENDERSON NV COMMUNITIES & NEIGHBORHOODS
Plum Hollow at Anthem Country Club